About Covid-19
Please watch this message concerning COVID-19, the Coronavirus, from our President & Owner, Jill Carlson, about how Park Co., Realtors is being impacted, how we are operating safely for everyone's protection, and our thanks and gratitude to the first-responders during these times.
Park Co. Topics on COVID-19
Please click on the following links below in regards to the topics on COVID-19 (coronavirus) to learn more from Park Co., Realtors. Thank you!
Frequently Asked Questions (FAQ's) on COVID-19
World of Hearts Coloring Sheet
Park Co. Statement on COVID-19
The Power of Park…Here For You!
Like the rest of the world, the real estate industry is experiencing a period of uncertainty. While each day brings new challenges, the PARK CO., REALTORS team continues to vigorously do what we do best…serve our clients. During this critical time, we promise to keep you informed with up-to-date market knowledge and provide you with the guidance you need. PARK CO., REALTORS has been in business over 60 years, and we have weathered major floods, recessions, and everything in between. We have the proven experience to navigate difficult times, and we can assure you that our team is committed to providing top-notch service throughout the Fargo-Moorhead and Lakes region.
As always, our clients' safety and well-being is our top priority, and we have the tools in place to function virtually as needed. Buyers are able to view listings via virtual tours, attend virtual showings, and view photos and information through our PARK app. For those critical in-person interactions, we have strictly enforced safety measures for both buyers and sellers.
We realize this is an unsettling time for everyone. Please know that we are committed to doing our part to keep the economy going by supporting our buyers and sellers and ensuring that real estate transactions continue to move forward. We know that tough times do not last but tough companies do. We've successfully faced challenging times before and we will do so again this time around.
From all of us at PARK CO., REALTORS, we thank you for your ongoing support and partnership. Stay safe and stay healthy!
Thank you!
Park Co. FAQ's on COVID-19
We have been asked many questions on how Park Co., Realtors is operating during COVID-19. Below we have provided our Frequently Asked Questions (FAQ's) in infographic (image) and PDF file format. If you have a question that you do not see on the FAQ, please contact us!
FAQ - Infographic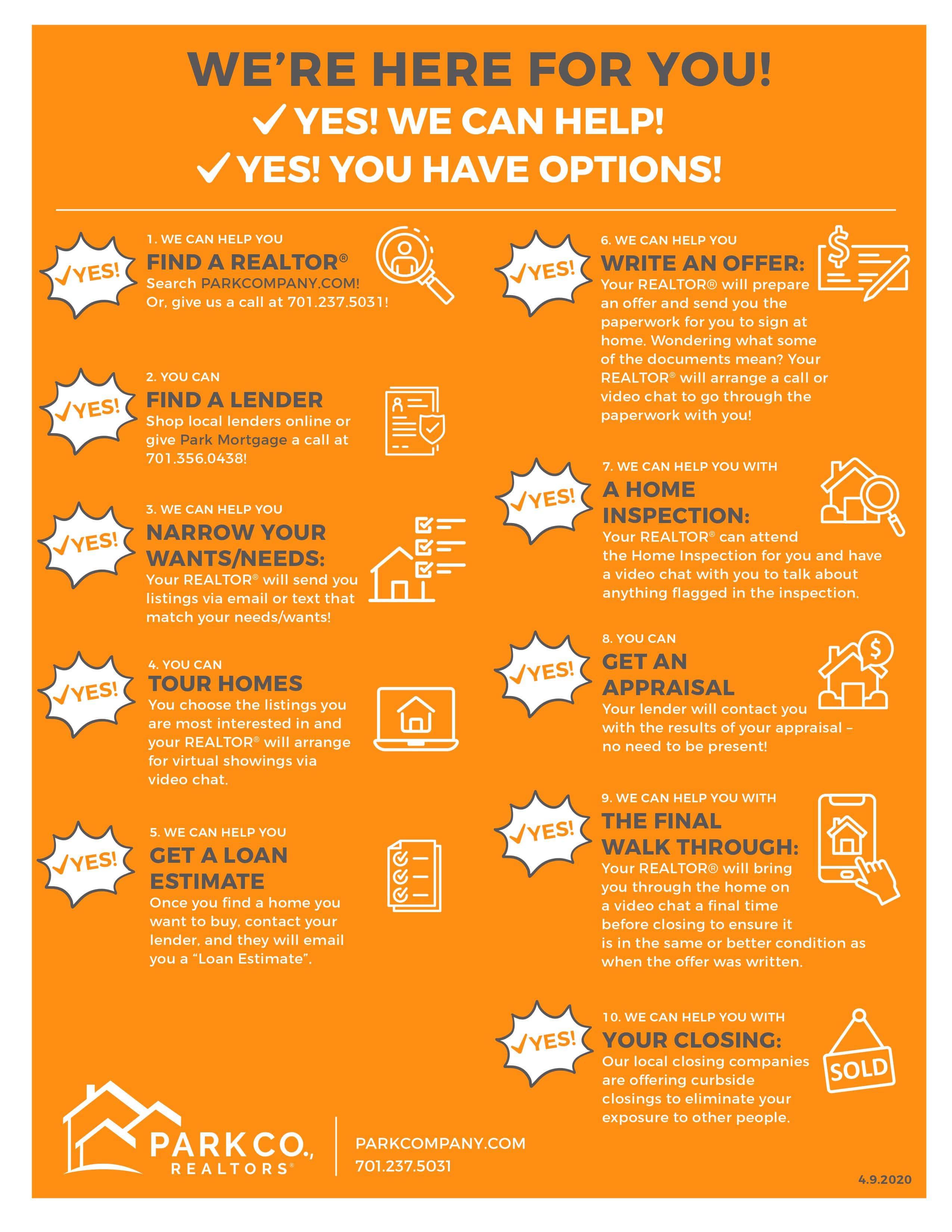 FAQ - PDF Format
You can view the FAQ's in our convenient PDF Format by clicking on the link below!
Park Co., Realtors: COVID-19 FAQ's (PDF)
Park Co. World of Hearts Coloring Sheet
During this time, Park Co., Realtors is proudly showing our support with " #aworldofhearts2020" a popular online effort to share love during a pandemic that was born right here in North Dakota!
Download our FREE World of Hearts Coloring Sheet to spread love and happiness during times of uncertainty with putting up hearts in your windows! Color in the house, cut along the dotted lines, and hang your art in your window!
Send a photo of your World of Hearts house hanging up in your home window to marketing@parkcompany.com and we will share it on our social media pages!
Click the link to download the the World of Hearts Color Sheet for all to enjoy and share!
Other COVID-19 Resources
CONSIDERATIONS FOR EMPLOYERS, EMPLOYEES



UNDERSTANDING ECONOMIC IMPACTS



KEEPING WORKPLACES SAFE AND HEALTHY
Testimonials
" Brenda is wonderful at what she does. She was always quick and either answering the phone or calling back as soon as she could. She was always cheerful. "
- Heather Rahn
" Brenda Richert is always a great person to work with. She has helped us sell and buy homes in the past. She is always helpful and answers our questions in a most professional manner. Brenda is always quick to respond to our needs. "
- David and Sharon Gunwall
" Brenda is an awesome realtor! We couldn't be happier with the incredible job she did, and the great resources Park Co provides. "
- Matthew Niemeyer
" She was excellent to work with Always kept me informed as to what was going on "
- Donald Benson
" Brenda is a bright and sunny person. We liked her right away. She was able to show us a few homes on our first visit to get a feel of what we were looking for and kept us up to date on new listings. We lived 2 hours away and were not always available to see every home, but when we could get to Fargo, she made herself available to us and helped us find the house we now call home. Brenda is a fantastic realtor. "
- David and Judy Dockter
" Brenda was very knowledgeable, helpful, great with communicating updates to me and answering all of my questions. I was confident that I could trust her to provide me with the information I needed to sell my current home and purchase a new one. Brenda also referred me to the mortgage branch of Park Company when I needed to find financing options for a bridge loan. Greg Dean and Michaella Vliem with Park Mortgage were very helpful, I felt confident in their abilities and, I appreciated the great customer service I received. Everyone I worked with at Park Company was always professional and courteous. "
- Charlotte Dorscher
" She found someone who will buy the house shortly after putting it up for sale. "
- Ann Wagner
" Brenda was wonderful! "
- Kathryn Nermoe
" Brenda was very nice, had suggestions and helped us to get things ready to sell. She always kept us informed as to what was going on. We sold our house in 9 days, so were very happy with the results! "
- Reggie and Candace Grinde
" We had a great experience selling our home! The only feedback I would give is that we were selling a rental property which was vacant, but we were not informed each time the home was showed, or when people were doing walk throughs in the home. We were told some of the time, but it would have been nice to have been more informed on this. True, the house was vacant, but it was still our home and we would have appreciated a heads up. Otherwise, our experience was absolutely phenomenal and we will go back to Park Company again for our future real estate needs! "
- Fauntel Deshayes
" We worked with Brenda Richert and she was wonderful! We were so impressed with her knowledge of the entire process from viewing our home flr the first time and knowing what to look for, all the way to the home closing process. She really does a fantastic job and cares about you and will mot quit until you found your home that is "the one". We would recommend her to anyone looking for a new home in the FM area. Thank you! "
- Kelsay Nelson
" Brenda is wonderful at what she does. She was always quick and either answering the phone or calling back as soon as she could. She was always cheerful. "
- Heather Rahn
" Brenda was excellent. She helped us with the design process in building our new/forever home. Thank you so much! "
- Robert Gromelski
" Brenda was our realtor and she was great! We never had to wonder if she was following up with other agents or the status of things during our sale or buying our new home. The minute she knew something she would let us know. "
- Travis and Jana Halling
" She handled our sale in an a very professional manner. "
- Patrick Gores
" Brenda gave us suggestions to help have a good showing. We only had it on the market a short time before having a full price offer. We were so happy as we had already purchased a different home. Brenda gets the job done. We would recommend her to anyone we know who is looking to buy or sell a home. "
- Brenda Carlson
" Brenda worked hard to find us a home. She showed many houses to us and was surprised at what we chose -- not what she, or we, expected. She was always available when we called and returned calls immediately if we missed her. We felt we could be honest with her and that she was honest to us, a very important attribute. "
- Richard and Claire Wilson
" Brenda Richert was amazing to work with. After being with another real estate company for over a year, it was remarkable to see how fast and hard Brenda works for her clients. She did a great job of updating us along the way and went above and beyond getting us prepared for our new home. We couldn't be happier with the results that we achieved working with Brenda. "
- Jacob Nelson
" Brenda was very personable and did an amazing job at selling out house. She took the time to get to know our family and a was always available to respond to questions. "
- Rebecca Preussler
Previous
Next